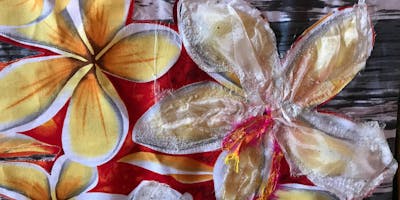 Private Party Thread PUNK
Tuesday, June 12, 2018 from 4:00 PM to 6:00 PM (CST)
More Information →
Welcome to a brand new class and concept for Delve MIY
Thread PUNK touches on freemotion, but the focus is on adding sheers, trapping threads under the surface, and giving dimension. This concept is a great addition to your art quilting explorations. 
AND!
Consider taking our Art Weave, Fabric Painting, or Fabric Fusion the week before as a baseline for this concept. We also have classes set up the week after that to finish your project. This would look great finished as a bag, wall hanging, or a pillow sham. Sign up for more than one at the same time and receive a reduced rate!
Our classroom is relaxed and has a creative vibe that will inspire you. We serve French wine to inspire relaxation. Come get away with us!
*This class is a great follow up class to Fabric Fusion. Call or stop into Delve for the Add-on class rate.
$49 
FAQ's
What should I bring to the class?
Your event fee covers all materials needed for the project. Consider bringing scissors and an iron if you would like to have your own. We have mini ironing boards ready for this class.
 What's the refund policy?
We understand that life situations happen.  Contact the store ASAP at 319-200-4246 and we'll work with you to reschedule an alternate time.
Unfortunately, we are unable to offer refunds for student cancellations due to teacher payment obligations.